Overview:
Jason is a transactional attorney with broad experience in a variety of areas, including commercial real estate, corporate, and general business matters. Jason's experience includes advising clients in connection with real estate and financing transactions; drafting, reviewing, and negotiating real estate and corporate documents, including purchase and sale agreements, retail, office, industrial, and telecommunications leases, and other commercial contracts; navigating title issues and other due diligence matters; preparing promissory notes, security instruments, and other loan documents; providing counsel with respect to the formation and management of business entities; and assisting with asset and stock transfers, mergers, acquisitions, divestitures, and other fundamental business transactions.
Representative Experience:
Jason's experience in real estate, corporate, and general business matters includes the following representative transactions:
Real Estate:
Represented buyer in multistate purchase and financing of more than 14,000 acres of agricultural land for $12 million, providing additional counsel on complex title issues and riparian rights.
Negotiated settlement to enforce contract for $2.9 million acquisition of ranch property following seller's attempt to renege, obtaining lower price per acre than originally negotiated by parties.
Assisted with closing on purchase of commercial property and assumption of underlying loan for $10.4 million, resolving title objections and preparing opinion letter regarding enforceability.
Represented seller in sale of two adjacent apartment buildings for $1.35 million, negotiating with multiple bidders to obtain optimal price and terms for contract.
Drafted contract for sale of development site for $3 million and assisted with resolution of issues concerning title irregularities, termination of tenancy rights, and public relations concerns.
Represented property owners in securing and closing FHA-insured loan in order to restructure financing on multifamily housing project valued at more than $3 million.
Helped procure and negotiate multiple telecommunications leases for public entity as landlord, acquiring considerable knowledge of the industry and market for use in future negotiations.
Negotiated numerous retail leases for landlords in multiple shopping centers owned by privately held, commonly owned real estate holding companies.
Prepared and negotiated numerous office and warehouse leases on behalf of national agribusiness company as tenant.
Corporate/General Business:
Represented multimedia company in $165 million divestiture of cable/broadband division and subsequent sale of affiliate supplying online publications and related services.
Assisted development company in $7.6 million redemption of membership interests and negotiation of liabilities concerning environmental remediation.
Restructured borrower's life insurance premium financing and mortgage-backed loans into new financing package including term loans and revolving line of credit totaling $17.8 million.
Counseled transportation company in acquisition of competing business and assumption of student transportation contract providing primary source of revenue.
Coordinated overhaul of corporate records for holding company and multiple subsidiaries, including amending corporate bylaws, restructuring stock ownership records, and updating minutes. Subsequently completed upstream merger of subsidiaries into parent corporation.
Education:
University of Virginia School of Law, J.D., 2004
Fort Hays State University, B.A., summa cum laude, Political Science, 2001
Bar Admissions:
Kansas, 2004
Missouri, 2005
Professional Affiliations and Memberships:
Kansas Bar Association
The Missouri Bar
Kansas City Metropolitan Bar Association
International Council of Shopping Centers (ICSC)
Honors/Achievements:
Missouri/Kansas Super Lawyers "Rising Stars," 2011, 2012, 2013, 2014
Graduate of Leadership Olathe, 2009
Community Involvement:
Kansas City Football & Cheerleading (KCFC): Football Chairman and Executive Board Member (2016 – present); Board of Directors (2014 – present); Blue Valley Southwest Area Director (2017 – present); Olathe South Area Director (2014 – 2017); USA Football Player Safety Coach & Board Liaison (2014 – present); Football Coach (2012 – present)
Olathe Chamber of Commerce: Chairman of the Board (2015); Board of Directors (2012 – 2017); Executive Committee (2014 – 2017); Economic Development Council (2012 – 2017); Business to Government Advisory Council (2011 – 2017)
Olathe Public Schools Foundation: Board of Directors (2009 – 2012); Program Committee Chairman (2012); E2Committee Chairman (2011)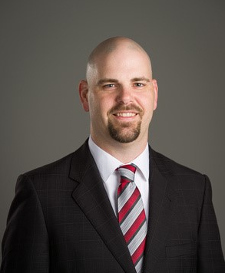 Real Estate
Commercial Transactions & Leasing
Corporate Formation & Governance
Business Services
Contact Me Today