Practice Focus:
Real Estate and Real Estate Finance

Real Estate Sales and Purchases
Development
Leasing
Zoning and Land-Use Planning
He works on a daily basis with real estate investors and developers on a regional and national scope.
Primary clients in his real estate practice have included:
A major regional grocery store chain
Shopping center developers
Management companies
Lease Negotiations & Drafting

Retail Properties (including national franchises)
Offices
Commercial and Industrial Properties
Residential Properties
Private and Public Financing

Tax Increment Financing
Improvement Districts
Sales Tax Enhancements
His private financing work has focused on asset-based lending transactions such as real estate mortgages, ground leasing and other forms of security. His practice includes financing and refinancing transactions involving:
National, regional and local banks
Fannie Mae
U.S. Department of Housing and Urban Development (HUD)
Missouri Housing Development Commission (MHDC)
Kansas Department of Commerce and Housing
Corporate Formation, Structure and Governance

Business Transactions
Corporate Governance
Commercial Finance
He has served and continues to serve as general counsel for multiple business organizations including:
Commercial Real Estate Firms
Global Foreign-market Expansion Consulting Company
Auto-transport Brokerage Firm
Residential Housing Developers
Non-profit Organizations
He has handled multi-million dollar secured financings, mergers, acquisitions and asset sales. He counsels clients
on all aspects of large and small business operations, including:
Employment Matters
Business Succession Planning
Vendor Agreements
Dispute Resolution
Non-profit Organizations

Formation and Corporation
Governance Issues

Counseling organizations with respect to inclusion in the U.S. Conference of Catholic Bishops IRS Group Ruling exemption.
Education:
J.D., University of Kansas School of Law – 2001
B.A., Emporia State University – 1997
Admissions:
Kansas, 2001
Missouri, 2002
Publications/Honors:
University of Kansas Law Review, Vol. 48, No. 3 (2000)
Award for Distinguished Client Service (Lathrop & Gage)
Personal:
In addition to his practice, Mr. Book has served as an adjunct professor teaching Real Estate Finance at the University Of Kansas School Of Law. Mr. Book is a native of Topeka, Kansas, where he attended Topeka West High School ('93). He is married to Sarah (Muessig) Book (Miege '91), and has five children – Caleb, Molly, Frances, Will and Sean. They live in Shawnee, Kansas.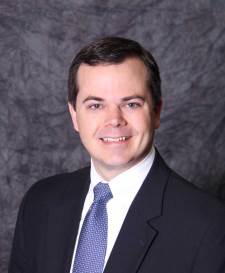 Banking
Business Services
Business Transactions
Real Estate